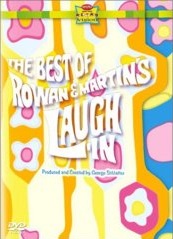 List Price: $49.98
Price: $44.99
For six years, I watched Rowan and Martin's Laugh-In on Monday nights. I haven't seen this show for several years, so I bought this DVD as soon as I saw it. The Best of Rowan and Martin's Laugh-In DVD has two episodes from each of the first three seasons and they're just as funny today as they were when they first came out. They even have the show in which Richard Nixon asked "Sock it to ME?"
The Rowan and Martin's Laugh-In DVD set has a delightful bonus - the three DVD discs in the set has interviews with Gary Owens, Ruth Buzzi and Arte Johnson, respectively, where they discuss how they were hired for the show and discuss how they worked on the show. It's well worth the price and is a look back at a piece of television and comedic history.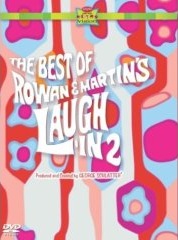 List Price: $49.98
Price: $44.99
Volume 2, of the Best of Rowan and Martins Laugh In, contains bits from the Cocktail Party, News of the Past, Present, and Future, the Fabulous Farkle family, the Joke Wall, as wall as "quickies," plus running jokes, site gages, and cameo stars featured in Episodes 16, 52, 54, 64, 65, and 87, which some of everyone's favorite shows.
I love the LaughIn DVD. It comes with 3 DVDs all funny and hilarious. I pop one of these into my DVD and let the cares of the day melt away. The jokes while sometimes corny are silly and timeless.


FREE Super Saver Shipping