The dumb blonde image portrayed by Goldie Hawn on Laugh-In came about unintentionally. "When I first started, I was so nervous that I would look at the cue cards and get all mixed up" She says. The producer loved it. He said to "keep it that way".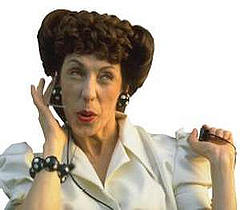 Laugh-In carried jokes about subjects like death, drugs, drugs and homosexuality; extremely daring for 1968, and particularly daring for Americans. Nonetheless, the show attracted guest stars such as John Wayne and even presidential candidate Richard Nixon.
During the 1968 election campaign, Nixon went on just to say "sock it to me". Hubert Humphrey, his opponent, was offered the same opportunity by the producers, but he declined. As it happens, Nixon won the election by only a million votes. Dick Martin jokingly confesses; "A lot of people have accused us".
Devices of the program included the Cocktail Party, The Flying Fickle Finger of Fate Award, Laugh-In Looks at the News and Letters to Laugh-In. Gags were inscribed on the undulating body of a girl in a bikini, and also on the joke wall at the close of each show, in which cast members kept popping out of windows to throw each other one-liners - or a bucket of confetti or water.
Not another television variety show ensemble would leave such a firm imprint on the evolution of American comedy until until Saturday Night Live.
More on the Rowan & Martin's Laughin.