Henry Gibson
Henry Gibson (born September 21, 1935) is an American actor. He was famous as a cast member of Rowan and Martin's Laugh-In.
Gibson was born Henry Gibson Bateman[1] in Germantown, Pennsylvania to Dorothy and Edmund A. Bateman. A graduate of The Catholic University of America in Washington, D.C., Gibson served in the U.S. Air Force as an intelligence officer during the 1950s.
Gibson's acting career began when he was cast in the 1963 Jerry Lewis film The Nutty Professor. Gibson appeared in two films by Robert Altman: The Long Goodbye (starring Elliott Gould) and Nashville (starring Ned Beatty and Keith Carradine). He also appeared in The Incredible Shrinking Woman (starring Lily Tomlin). From Nashville, Gibson was nominated for a Golden Globe Award and won the National Society of Film Critics award for his role of "smarmy" country music singer named Haven Hamilton.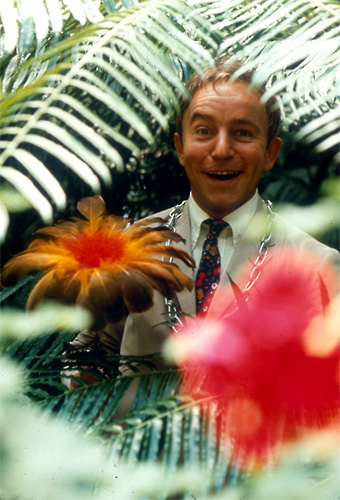 Gibson's 'break-out' performance came with the three years he spent as part of the Laugh-In cast. A key character he played was "The Poet," often reciting poems with "sharp satirical or political themes" 1. He would emerge from behind a stage flat, wearing a then-trendy Nehru jacket and a string of 'hippie' beads and holding an outlandishly large artificial flower, and say, "[Title of poem] -- by Henry Gibson." He would bow stiffly from the waist, recite his poem, and return behind the flat. Gibson's simple-looking poem routine was a memorable enough part of Laugh-In that John Wayne actually performed it on the show once, flower in hand--although in his own inimitable style: "The Sky -- by John Wayne. The Sky is blue/The Grass is green/Get off your butt/And join the Marines!" At which point, Wayne left the scene by smashing through the flat.

On Laugh-In, Gibson also regularly appeared in the "Cocktail Party" segments as a Catholic priest, sipping tea. He would put the cup down on the saucer, recite his one-liner in a grave and somber tone, then go back to sipping the tea.

Gibson is today most often remembered for his roles in two feature films. In the 1989 Tom Hanks/Joe Dante comedy, The 'burbs, Gibson played the main villain. In 1980 he played the leader of the "Illinois Nazis" in the John Landis film The Blues Brothers. Most younger audiences affiliate him with this film in particular due to its popularity. He has also worked frequently as a voice actor in animation, most notably portraying Wilbur the pig in the popular children's movie Charlotte's Web (1973). He also worked on the cartoon Galaxy High as Doyle's locker.

Gibson re-teamed with director Dante a few years later when Gremlins 2 was released in 1991. He performed a cameo as the office worker who is caught taking a smoking break on camera and fired by the sadistic boss.

Gibson can most recently be seen alongside Owen Wilson and Vince Vaughn in the 2005 comedy hit Wedding Crashers, and as supporting character Judge Clark Brown on the TV show Boston Legal.